Welcome to the

Rara Avis Antique Book Shop
the very first Polish antiquarian bookseller in the web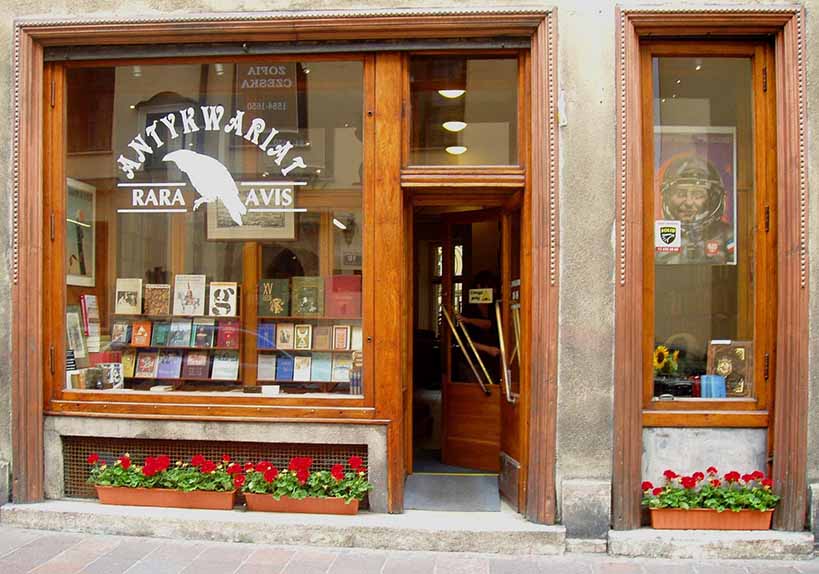 We are the very first Polish antiquarian bookseller in the web.
In our activities we focus on buying and selling antique books (published before 1945), maps, prints, posters and photographs. We organize Antique Books Auctions three times a year. We are interested especially in Polish Avant-garde editions.

About us
Rara Avis Antique Book Shop and Auction House was founded in June 1992 by Zuzanna Migo-Rożek and Janusz Pawlak. We are a member of the International Federation of Dealer Associations CINOA and Polish Association of Book art Dealers SAiMP (Zuzanna Migo-Rożek served as its president between 2009-2015).
Ways of cooperation - Auctions - Commission
We manage a commission sale in our shop, we buy items for cash as well. Special and rare lots get into our auction catalogues, which we publish three times a year.
Over the past 25 years we have used our experience to develop the complete service that our clients need. If you like to sell your books, contact us
We arrange book auctions three times a year.
You can collect purchased items n our shop in Szpitalna 11 from Monday or we can ship them to your place.
2021 Auction schedule: 131st auction - 13-14th of February, 132nd auction - 12-13th of June, 133rd auction - 16-17 of October.
The Auction online will be held on the 16-17th of October, 2021 without the audience participation through the OneBid service.

Bidding has been divided into two daily parts:
1st part (lots 1-931) - 16th of October (Saturday) - from 10.00.
2nd part (lots 932-1514) - 17th of October (Sunday) - from 10.00.
You can send you bids by email, fax (+48 12 422 09 90) or filling the form by the catalogue online .
We answer every additional question.
Archival Rara Avis auction catalogues
There are thousands of rare books, maps and prints passed through our hands during almost thirty years of work. Explore our prevoius auction catalogues, check the prices. Some items may be still available!
Archival catalogues are available in PDF format only. There are auction results uploaded below each catalaogue.
Any questions?
Want to receive newsletter? Subscription ensures that you never miss a thing!
Contact us.
Contact us
Szpitalna 11, 31-024 Kraków
Working hours:
Mon - Fri: 10 - 18
Sat: 10 - 14
PHONE/FAX:
PHONE:
+48-12-429-16-48
E-MAIL:
BANK:
Bank PeKaO S.A., III O/Kraków, ul. Szpitalna 15, 31-024 Kraków
ACCOUNT NUMBER:
56124022941111000037088455
international transfers: BIC = SWIFT KOD: PKOPPLPW
IBAN: PL56124022941111000037088455
NIP: 676-000-05-69
Regon: 350556539